The DSCN hits 8400+ inboxes, mostly belonging to highly educated people in the US. Quick facts about DSCN readers: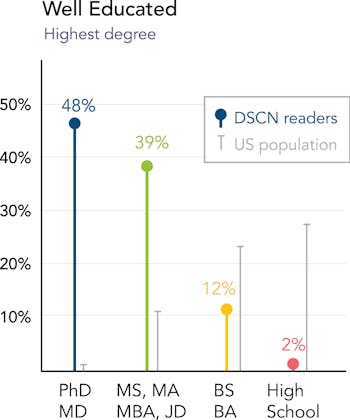 86% have a Masters degree or higher
17% plan to get another formal degree
75%+ are based in the US
70% of readers plan to learn from StackOverflow, Quora, and/or GitHub
47% work in higher ed
18% work in tech
33%+ plan to organize an event in the next 12 months
~70% plan to attend conferences and workshops in the next 12 months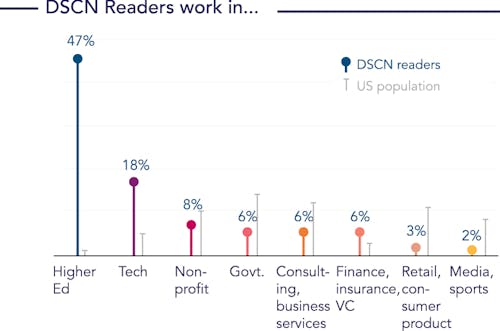 We have more charts on the demographics of DSCN readership and what our readers want.
Sponsorship Options and Prices
⭐️ Masthead Sponsor
Logo at the top of the newsletter for two issues, with a five word description/call-to-action
Capped at 1 per newsletter for now
$5,000 - industry
$2,000 - academia (first time is discounted to $1,000)
📝 Sponsored Content Box  
1-2 per newsletter
Content consists of one image and text. Both the image and the text can have links embedded.
The max amount of text is 8 lines, though we recommend against writing an unbroken paragraph of that length.
$1000 - industry
$500 -  academia, non-profit, and government

💼 DSCN Featured Job posting 
2 lines, includes small logo, runs in 2 newsletters
5 maximum per newsletter
Job also posted to ADSA Jobs Board
$200 - industry
$150 - academia, non-profits, government
📆 DSCN Event listing
2 lines, runs in 2 newsletters
No cap on events per newsletter
Event also posted on ADSA Events Calendar
$200 - industry
$150 - academia, non-profits, government
🎙'DSCN the Podcast' sponsorship
DSCN is planning to launch a podcast that will deliver an audio version of the newsletter, complete with short reactions from our editorial team and key experts among our readership. When there's breaking data science research in, say, astronomy, we'll invite an astrophysicist from among our readership to provide color commentary. We're searching for marquee sponsors to support DSCN-as-a-Podcast starting at $25,000 annually.